Wild Rye x Pivot Apparel Collab Launch
Pivot Cycles' engaged audience as measured by web traffic, social media followers, and dealer survey, averages 16% female-identifying.
We're not afraid to share that statistic, but we're also not afraid to say, "that's not good enough."
It was that feeling that led us, in the fall of 2019, to cold call Wild Rye.
It was a humorously middle school-ish e-mail: "Hi, we're Pivot Cycles and we think you guys are cool. Wanna do something together?" Fortunately, the up-and-coming Sun Valley-based women's technical apparel manufacturer responded in kind: "Hell, yes."
That call has blossomed into an evolving brand partnership,
underscored by a shared passion for highly technical and innovative products, and giving voice to both brands' commitment to elevating female-identifying riders' voices.
Today we launch our first seasonal collaboration
with Wild Rye, bringing to life a beautifully crafted three-piece apparel collection, new rider stories, athlete involvement, event collaborations, and future products.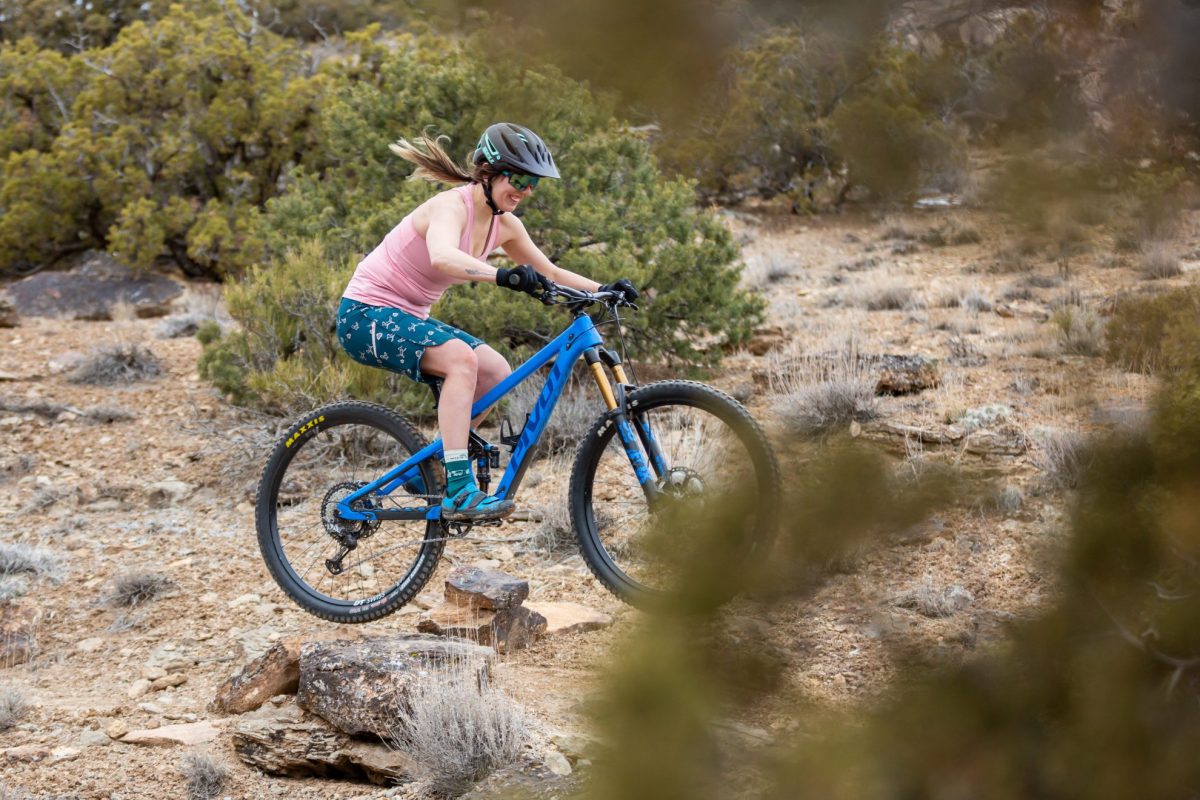 Elorie Slater, Pivot's Marketing Director,
had been riding in a Wild Rye kit since 2016. After thousands of miles of abuse, the merino wool jersey and technical short were still in amazing shape. "I just knew, from my own experience, that Wild Rye values materials integrity like we [Pivot] do. It was a no-brainer to reach out."
From their first conversation, Slater and Wild Rye CEO Cassie Abel saw the potential for collaboration. "Pivot is a natural fit. Not only does the brand recognize the importance of speaking to and elevating female-identifying riders, but Pivot's commitment to product resonates with our own product-first ethos", says Abel.
It is not by coincidence we launch this partnership on International Women's Day.
With the annual theme "Choose to Challenge,"  IWD 2021 speaks to our commitment to challenge gender bias in our sport, our workplace, and our riding communities.
Pivot Cycles deeply believes in elevating the experiences and voices of female-identifying mountain bikers, from our Marketing department with a 50/50 gender balance to our podium-winning professional female athletes to the young riders we mentor as the underwriting sponsor of both Arizona and Utah's NICA leagues.
"The ultimate goal," says Abel, "is supporting female-identifying riders."
"We're stronger together," adds Slater.   We're looking forward to co-hosting in person events in the fourth quarter of 2021 and exploring more opportunities with Wild Rye in years to come.
The Wild Rye x Pivot spring collaboration collection,
WHAT MAKES A PIVOT A PIVOT?
Latest Articles