Finding Moments
Exploring Fatherhood
Words By: Michael Venutolo-Mantovani
Driving is one of the things about biking that JP Monk loves the most.
Sounds a bit off, no? But to hear him describe it puts it best. Because JP's daughter Teagan is one of the best young mountain bikers around yet still a few years from owning her own driver's license, it's up to her parents to drive her around from race to race, event to event.
They've crisscrossed the nation, driven clear across the country to places as from their homebase in Boulder City, Nevada as New Jersey.
And it's in those long, arduous drives where JP revels in the quality time he gets to spend alongside his fourteen-year-old daughter. Because once they arrive to their destination, she's off, tearing it up alongside some of the best and fastest mountain bikers in the world, and making her own name for herself as an athlete and a mountain biker.  
JP realizes that these precious moments are fleeting, that very soon, Teagan will head out into the world on her own. And by then, she's likely to be a household name in the mountain biking community. Even more so than she already is.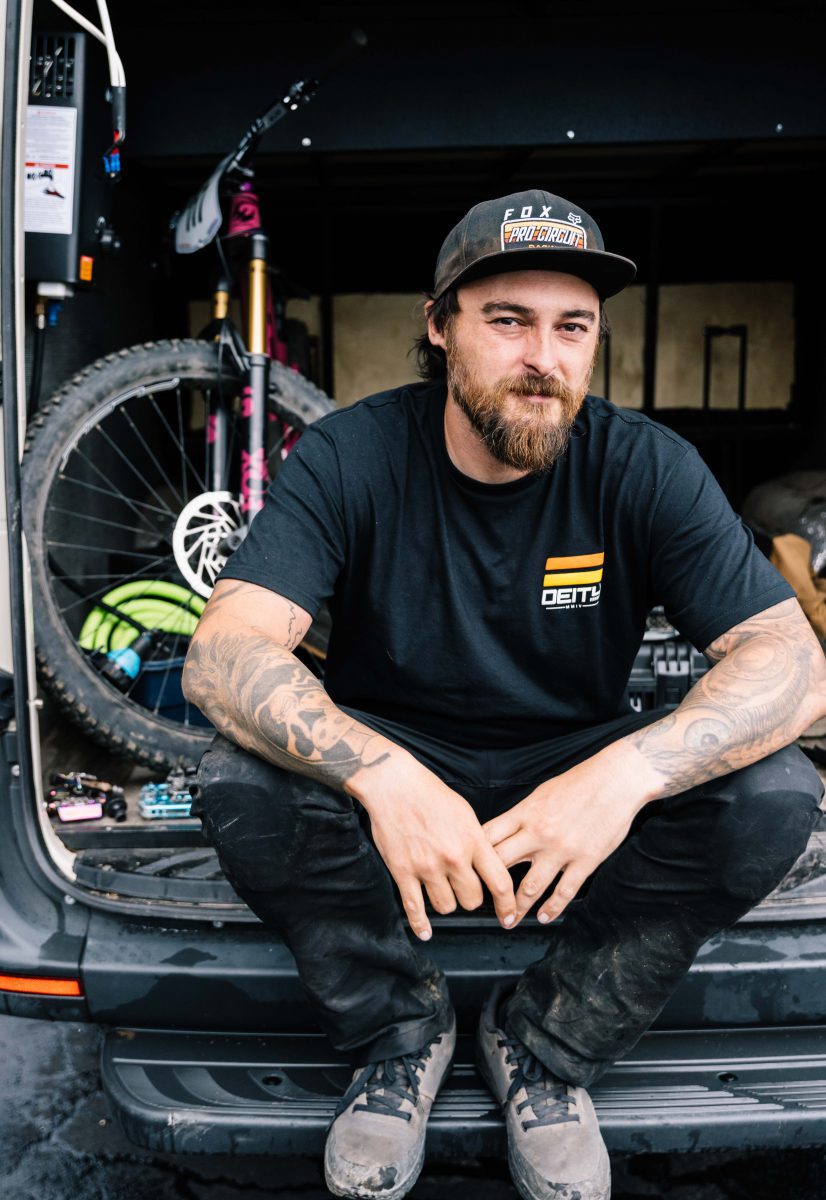 Raised between Orange County, California and Grants Pass, Oregon, thirty-five-year-old JP has been racing since he was four-years-old.
Back then, BMX was king, especially up in Oregon, where his grandparents financed his blossoming love. He raced throughout his youth, working up to the pro level, before he started exploring the art and craft of photography. In 2006 and '07, he scored a few photo jobs with a Bay Area mountain bike company. It was there, where the pros ribbed him for riding a "kid's bike," that JP first transitioned into mountain biking. He was immediately hooked.
A few years later, JP and his wife welcomed their daughter Teagan. Like her dad, she started racing BMX, quickly rising through the ranks to become one of the fastest young racers in the country. Within three months of climbing on her first BMX bike at six-years-old, she won Nationals. But Teagan was turned off by the uber-competitive nature of everyone in the sport. After two years, most of which were spent winning races around the country, Teagan was search of something that had a more communal vibe but still allowed her to compete.
With the encouragement of her parents,
Teagan found her way to mountain biking. And though her first foray into the sport left her with a black eye after crashing one of JP's bikes, she was hooked, telling her dad, "Sell all my BMX bikes. We're doing this."
JP started Teagan out on the trails in Bootleg Canyon, where the trails tend to be both super steep and super loose.
Hardly ideal training grounds for someone brand new to the sport. But it was near enough to their home that JP could get there easily enough.
So, to deal with Bootleg's trademark gnarly factor, and, of course, it's ultra-dangerous quick drop offs, JP employed a friend to come along and help man the scariest and most dangerous places where Teagan might wreck, to minimize the chances of catastrophic wipeouts that would send his young daughter down a cliffside and into a ravine.  
 Luckily, JP only had to catch Teagan before she went over the cliffside on one occasion. After all, she was a natural on a bike.  
 By the time Teagan was eight, she was racing the Southridge fall series in Fontana, California. At the time, she was the youngest racer there. To add to that, the depth of women racers at the time usually meant there was usually only enough to field a single women's race. Before she turned ten, Teagan was lining up against women in their teens, twenties, and thirties. And often, she was beating them.  
By the time she was ten, she was a Cat 1 racer, still the youngest in any field she raced. It was around then that JP suffered a series of injuries that would prevent him from riding with Teagan for a few years.
Without her dad by her side on the mountain, local pros like three-time World Champion Anneke Beerten took Teagan under their wings.
Teagan became friends with Nico Vink, another of the planet's best mountain bikers, after a chance meeting at Whistler. It was a manifestation of the community Teagan was in search of to the highest and most elite degree. Still, it was hard for JP to watch his daughter from the sidelines and by the time he was able to climb back on his bike, he saw his daughter armed with an entirely new set of skills and abilities.  
In many ways, JP credits the involvement of her new riding pals for his daughter's meteoric rise on the bike.
But it's also due in no small part to Teagen's deeply competitive nature, something that has been intrinsic to her for as long as JP can remember, and the fact that the family prioritizes racing, filming video parts, and just riding over a hardcore training regimen.  
 Watching his daughter progress through the ranks and become an elite bike racer before his eyes is rewarding in myriad ways. Watching his daughter develop not only speed and technical ability, but resolve and fortitude is in itself a joy. Helping her recognize her passion and realize her dreams is one of the best parts of the job.  
But it's in those quiet moments between the races, when it's just him and Teagan, where JP often finds the most joy as a father.
Whether it's driving to and from races in every corner of the country, doing fun rides as they recon trails, or just hanging out and tooling with their rides, JP is certain that no sport would provide him the chance to develop the kind of bond he has with Teagan quite the way biking has.  
And for him, those moments are irreplaceable. 
WHAT MAKES A PIVOT A PIVOT?
Latest Articles