Learn more about Pivot Factory Racing athlete, former DH World Champ turned Enduro racer, Morgane Charre.
Morgane discovered BMX aged 12. From that moment onwards she spent every spare moment at the skatepark or dirt jumps.
When she later had the opportunity to try mountain biking,
it was straight into a downhill race; eight years of World Cup racing ensued, in which time she achieved nine podiums and a World Champion's title. Now Morgane's passion is for enduro racing. In her first full season in 2019, she finished fourth overall in the Enduro World Series and ended the year on a high as part of the winning French team in the Trophy of Nations.
What do you look forward to about being a part of Pivot Factory Racing?
Pivot Factory Racing is full of awesome characters and super talented riders. It will be a great opportunity for me to join the team, learn from them and have a lot of fun in the coming seasons. I look forward to traveling together and giving it our best at the races. I know the mechanics are awesome too; I'll be in the best environment possible to achieve my racing goals.
There is lots of time on the road and between races with the team. What are you expecting?
I know everyone in the team is super passionate about bikes, just like me, so I expect a lot of riding in between races. They are also some of the most fun guys on the circuit so I'm sure we will have an awesome time traveling to race our bikes. I raced with Emilie for a long time and we are great friends too so I hope we can spend more time together this year even if we're not racing the same program.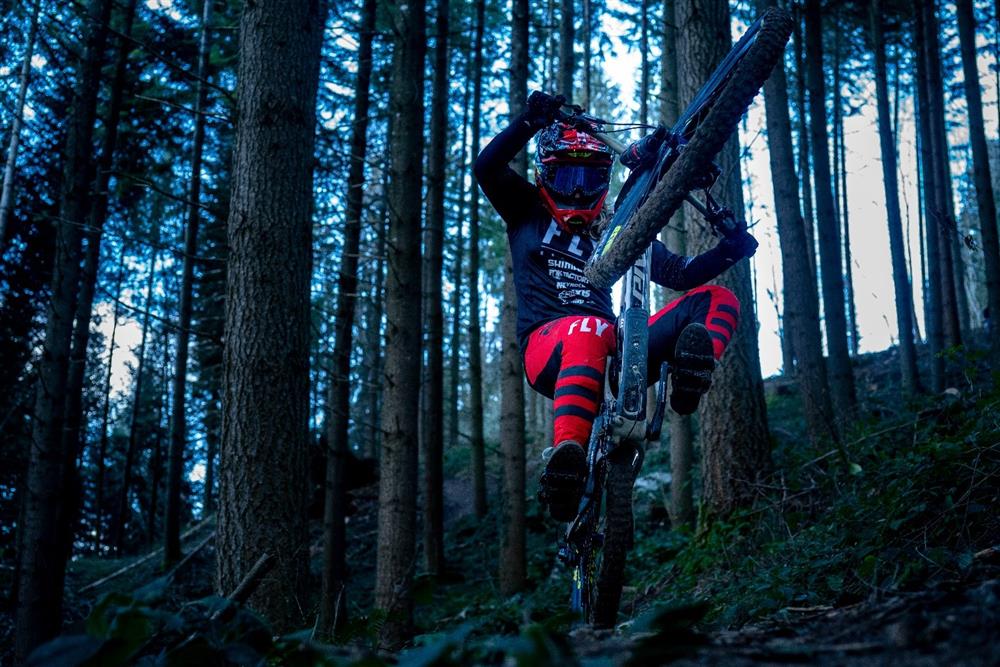 The vote is in, Ed Masters was voted team clown. We know you have been on a team with him in the past, what's your funniest moment with Ed?
Haha, Ed is for sure one of the funniest guys ever. I can't even pick one particular moment, he's just constantly having some crazy ideas and having fun. I can't wait to hang out more with him this season.
What have you been up to this off-season?
I live in the French Alps and we had some snow quite early this winter, so I've been skiing a lot. I absolutely love it, it's fun and good training. I've been riding bikes quite a lot with a few trips down to beautiful Finale Ligure and the south of France for some warmer weather. I'm working part-time in a ski shop for a few months in the off-season too; I enjoy it and I get to meet some cool people there.
Do you have any superstitions? If so, what are they?
Yes, never tell anyone your superstitions.
What race are you most looking forward to in 2020?
I guess it's Olargues, the French round of the EWS. Although it's definitely not the kind of terrain I'm used to (it's super rocky there), it's always a different feeling racing a world-class event in your own country and France has some of the best crowds so I think it will be an awesome event! I also look forward to racing in Burke, Vermont. I went on a little road trip with my boyfriend through Vermont a few years ago after Windham World Cup and I absolutely loved it so I can't wait to discover more about Burke.
What is the toughest part for you during a race?
I reckon I need to learn how to manage my race better. I only switched from DH to Enduro two years ago so it's still quite new to me. I always tend to give everything I have on the first stages but then I sometimes struggle to finish the day as I want. I'm working a lot on my endurance this winter so, hopefully, that will improve this year.
What is your goal for 2020?
My goal is to be on as many podiums as possible in EWS, top-three overall and to have a lot of fun with the team.
Who did you most look up to as an amateur racer?
Sabrina Jonnier was always my hero. She was there at my first ever DH race (a local race with only three girls racing) and I always thought she was so cool. Later I always looked up to Rachel Atherton, she's such an incredible athlete and she is always so confident to do some of the hardest lines in any circumstances or conditions. I still look up to a lot of athletes who inspire me. Not only in MTB but also in ski racing or motocross for example, I'm a big fan.
Do you ever see yourself in a kid or struggling privateer that's asking for advice or an autograph?
For sure I see myself in a kid or a privateer as it wasn't long ago that I was in their shoes. I know from my personal experience that a pro rider can have a massive influence on inspiring a kid so I'll always try my best to encourage them to follow their dreams. I have the biggest respect for all the privateers as I was there too and know how much time, effort, money and passion it takes. It makes me appreciate how lucky I am to be part of the Pivot Factory Racing team.
How do you expect to use the experience of racing alongside Matt and Eddie to better yourself as a racer?
Matt and Eddie are both amazing riders with mad skills. I think they go with the flow more than others and it seems to work for them, I can definitely learn from them about that and I'm sure their relaxed approach to racing will benefit me.
WHAT MAKES A PIVOT A PIVOT?
Latest Articles