Get That Girl a Bike: Wheel Talk
Have you ever been given something in your life that has changed your trajectory?
Without you even knowing? Even now, when you think back to a pivotal moment of how you got to where you are now, can you pinpoint that? 
I can.
It was the day my PE teacher, brimming with the enthusiasm of a single speed trail rider singled me out in class for having long legs, "perfect" for cycling. He proceeded to lend me his wife's bike and from there I was on my way. As a gangly 14-year-old navigating the terrain of adolescence, I was unaware how the simple act of getting myself a bike, would shape the core of who I am today.  
If you've been following these blogs for the past three years, you'll know one thing for sure: Women are absolutely, positively owning the mountain biking scene. We're not just talking about showing up at the bike park or hitting the trails (which is the new norm); we're talking about showing up and seriously competing at world class freeride events, where no woman had participated before, stacked fields in all competitions from club racing through to World Cups, equal pay and more frequent opportunities. 
So, what lies at the heart of it all?
It's the everyday, the commonplace, the easily accessible act of getting the girl a bike.
By now we are well versed in women's equality and opportunities within the mountain bike and wider cycling realm, (unless you've been living under a rock) and it's been outstanding to see and witness the celebration that has unfolded. In the three short years since I started contributing to Pivot Cycle's column, the commonplace of women's cycling has gone from being a cutting-edge novelty to a new norm.
I've ridden with women from all corners of the world whose lives have been transformed from the simple act of riding a bike. The snowball effect is apparent, where lives are only getting bigger, enriched and fulfilled with more doors swinging open, on a professional level through to everyday life.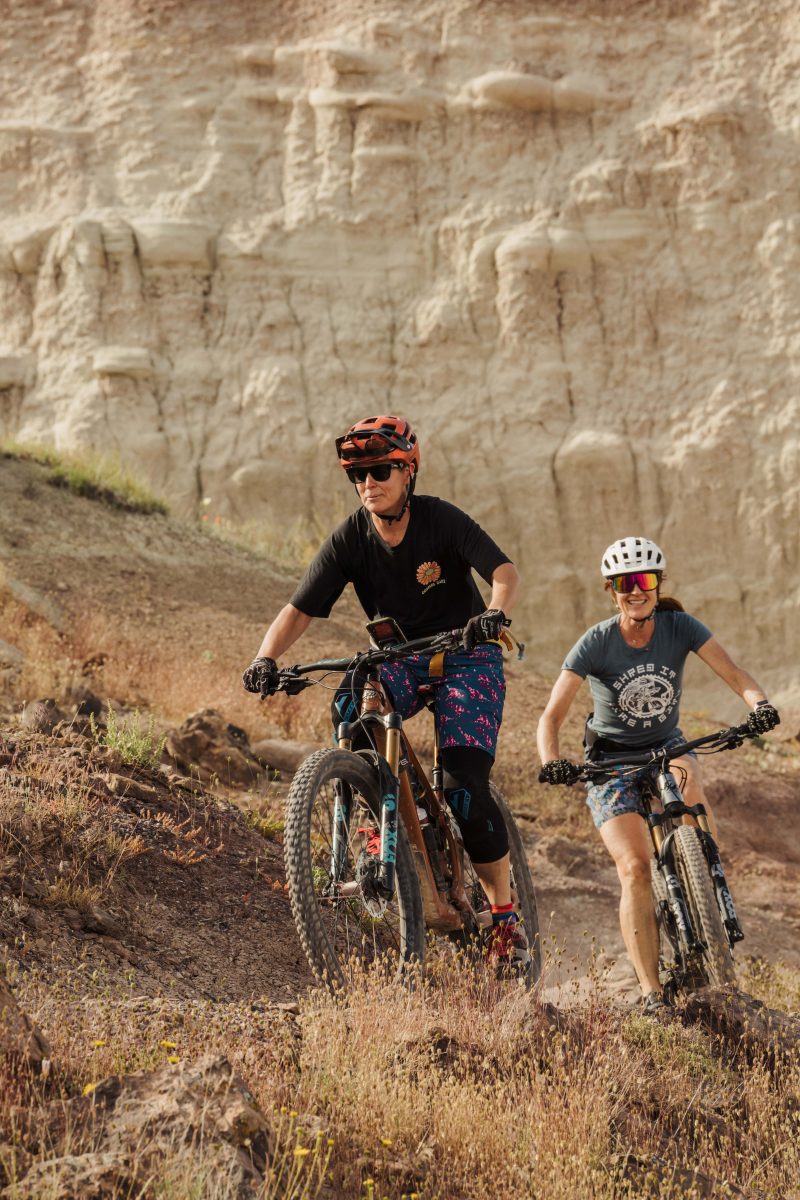 Redbull Formation: Creating a Platform for Progress in all aspects of life
Currently a hot topic, but also the perfect event exemplify – Redbull Formation in Virgin Utah, has been the trailblazer incubator that has given top female athletes a platform and a voice to shred. And the side effects have been phenomenal.  
Looking back to 2019, there was a desire for women to be included in the freeride space, but there wasn't the space or mechanism for them to get comfortable, experiment, mess up, and learn. Katie Holden, a former freerider who once dreamed of competing in Rampage, co-founded Formation with a brilliant idea. She believed that by removing the competitive aspect and giving women support to spend time in the desert together, they could become familiar with the terrain and learn to handle the immense pressure that comes with future competition. It was small and private by design. 
Four years and three Formations later
the entire landscape of women's freeride has changed. The invited-athlete list had doubled by 2022, and women were riding the same top-to-bottom lines that the men rode to the Rampage podium just a few years earlier.  
The Ripple Effect: Success Stories
Almost everyone who's been involved with Formation has a success story of their own, from the athletes and diggers all the way to the female photographers invited to cover the event.  
After formation, we saw sponsorship deals with Red Bull, transitions from weekend warriors to full-time sponsored athletes, and evolving into some of the most innovative riders in the field, to competing in the X Games and orchestrating their own high profile jam sessions — feats that might have materialized independently of Formation, yet undoubtedly owe a nod to the event's widespread exposure. 
And while that opportunity hasn't opened up at Rampage, nearly every other competitive freeride event that was previously open only to men has added women into the mix in recent years. Audi Nines (now Swatch Nines), Proving Grounds, Crankworx Dual Slalom and Speed & Style, the Fest Series, DarkFest, and Freeride Fiesta have all expanded to include women in a meaningful way. 
These athletes have taken the initial step of 'getting on a bike' and have raced ahead, climbing to new heights in their relentless pursuit of elevating the standards and professionalism of the sport that was once primarily reserved for our male counterparts. 
A new way of life
While we celebrate the success of our female professional field, it is equally important to decorate the day-to-day shredders, who are ultimately inspired by the ladies on the upper echelon.
Here, the simple act of getting a girl a bike has the power to steer your life in unexpected and exciting directions. For some, it's a career change, turning their passion into a profession as coaches, guides, trail builders, dedicated media gurus and more. It's a way to stay deeply connected with the sport and share the stoke with others, only fueling the growth of mountain biking.
For others,
it's about embracing a lifestyle defined by their love for the sport. It might mean choosing to live in areas with epic riding opportunities, making riding an integral part of daily life. Sometimes, it prompts a complete shift in careers or priorities. Just as I once aspired to climb the corporate ladder, believing success was tethered to income, it's remarkable how a simple act like gifting a bike can catalyze life-altering changes.  
Get the girl a bike: a can opener to a new world
It's apparent, mountain biking has been a total game-changer for countless women. It's more than a sport; it's a transformative experience that opens doors to new horizons and opportunities.  
So, when you get that girl a mountain bike,
you might just be altering the trajectory of her life in the most incredible ways. From boosting confidence and empowerment to building a community of awesome friends, inspiring generations, and leading to life-altering choices, mountain biking is the ultimate can opener to a whole new way of living.  
You never know, she might be the next female to lead the charge at Redbull Rampage.  
WHAT MAKES A PIVOT A PIVOT?
Latest Articles