The Cyclist's Menu
Words & Photography: William Freihofer
Regardless of where you stand in the great debate of "what's 'gravel,' and when did it start?"
You have to admit that in 2015, when Heidi Rentz and Zander Ault decided to stake their professional lives on riding long distances on dirt roads in the middle of nowhere, there were a lot of questions to be asked.
Their decision - to leave their positions leading road cycling expeditions to operate their own camps out of their van in the 800-some person town of Patagonia, Arizona -seemed optimistic at best, dubious at worst.
An old rail yard built to support nearby mining and ranching, downtown Patagonia consisted of a handful of gift shops, one saloon, three restaurants and a bakery to go with the 39 – room Stage Stop Inn. Arizona trail hikers shaded themselves beneath the pines of the town square – an area long and wide enough to land a jumbo jet were it not for its mature trees – but bikes were few and far between on the hundreds of miles of red dirt roads surrounding town.
Visit The Cyclist's Menu
Why Patagonia for these bright-eyed cycling entrepreneurs?
The most obvious answer begins a thousand feet above town and 12 miles to the east. The unspoiled landscape of the San Rafael Valley extends from the Canelo hills to Mexico, power lines buried from its days as a backdrop for John Wayne westerns. Tucked against the international border, the SRV sees almost no local traffic, though law enforcement, ATV's and the occasional leadfooted UPS driver are reason enough to keep your head up. Routes snake through its adjacent mountain passes and creek beds, providing endless options for the pain-cave inclined.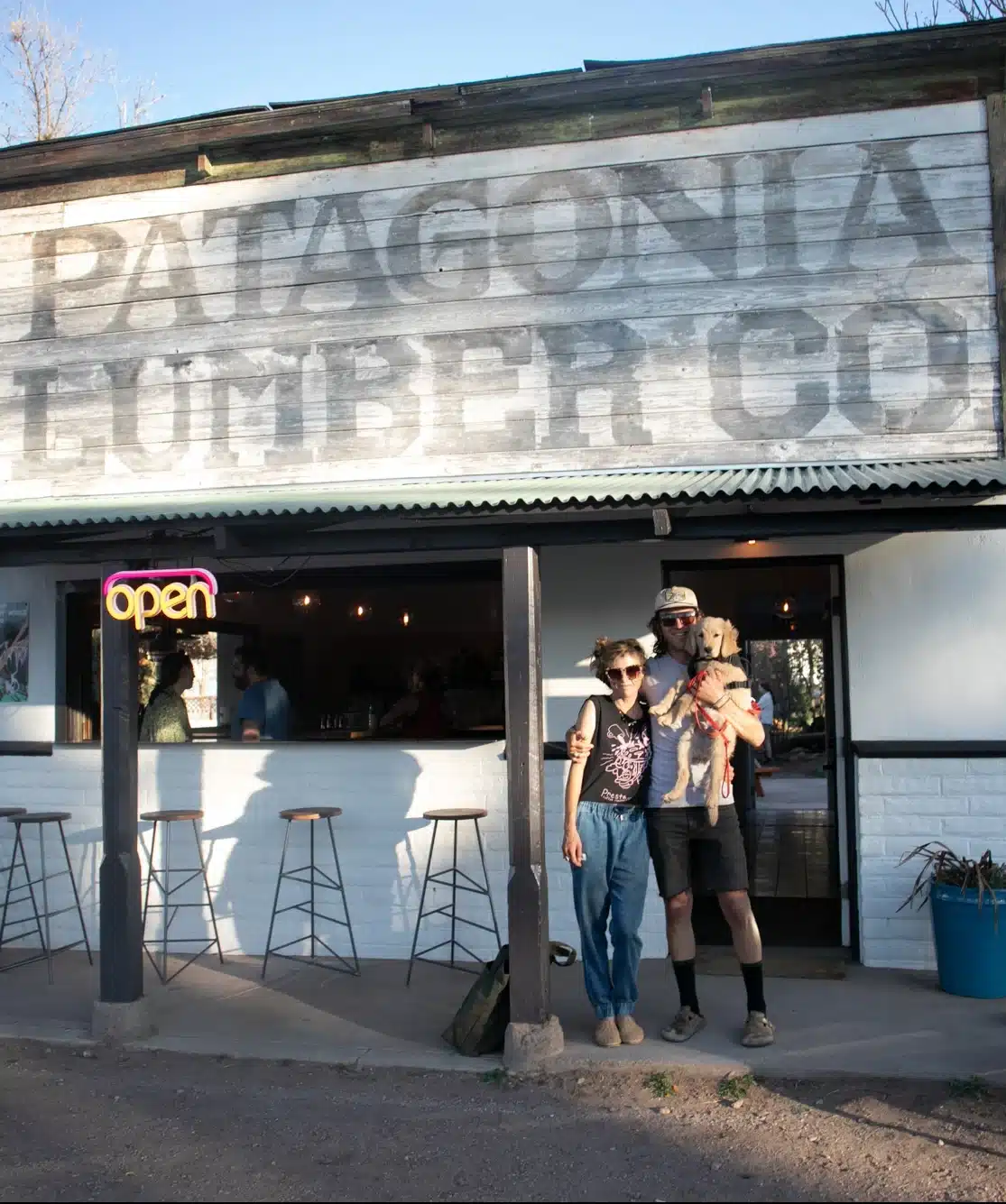 It's been almost a decade since Heidi and Zander arrived in Patagonia -
and in that time they've married, launched three additional businesses, and seen drop bar bikes with knobby tires and bar bags become an everyday sight. The Aults' fingerprints are all over the burgeoning cycling scene here. Heidi and Zander – a former pro mountain biker and sustainability minded chef, respectively – turned their shared insatiable appetites for unpaved miles and travel into their occupation. As The Cyclist's Menu, a boutique international touring company focused on dirt roads and real food, the duo's early "Arizona Gravel Camps" in Patagonia were known for their ambitious routes and family style local food.
The Food
The combination of Sonoran influence, local producers and a few Tucson stalwarts made the menu stand out,
and a welcome assist from a well timed upswing in Arizona's beer and wine scene didn't hurt. On the bike, rides have evolved over the years, with the frequency of wrong turns and blown sidewalls trending downwards as Heidi honed in her portfolio of routes to and from Patagonia.
She eventually used her encyclopedic familiarity with the landscape to establish a 100 mile race called The Spirit World 100, and in 2019 and 2021 hundreds of "gravel heads" converged to tick through its 5 aid stations en-route to cold beer and a Grateful Dead cover band in the center of town. A local Mariachi band plays in the park, Tequila is served and things are not taken too seriously – despite some considerable speed at the front of the pack.
The Spirit World 100
"It's mostly just a party," says Heidi
Of course, there's a catch: with great gravel comes great responsibility. As more bright lycra has arrived in town there has been an increased need for spreading information and good etiquette to keep people safe and locals happy. And if they're not happy, "they know where to find us," both say with a smile.
"That's the way we like it," said Heidi. "We want what's best for this town and this landscape, and we'll work with anyone else that does too."
Finding Heidi and Zander has become easier of late.
Covid has had the effect of keeping things closer to home, tabling trips to Mallorca, Spain and eastern Italy in favor of Helena, Montana and Mendocino, California.
More time in Patagonia brought timely opportunities, and with a knock on the gate from Patagonia lifer Ted Piper and a vacant serving license the Patagonia Lumber Company became the town's newest cafe/bar, housing group rides, farmers markets and live music on the main drag. Visiting riders park, caffeinate, ramble their way up and around the San Rafael, and return coated in fine dust and salt.
"One thing that's unique – or at least interesting – about the riding here is that it is so isolated. Everything starts and finishes in town. There's no gas station up there (in the San Rafael Valley) for a chocolate bar or anything," said Zander.
Patagonia Lumber Co.
Beyond the normal concerns of parking and sharing the road
are the practical barriers to riders attempting long distance efforts on the border with Mexico. The Sonoran heat, stray cattle, cactus and an active smuggling enforcement zone are all added to the normal hazards of two wheeled travel.
The Aults hope to grow the Patagonia Lumber Company into a role not unlike that of a fly fishing shop in many western towns – a hub aimed at educating enthusiasts how to safely enjoy the natural resource while giving them the information they need to protect it. On a weekend night the bar collects locals – all sorts. Some are glad to see new blood in town, seeing the increase in outdoor tourism as a natural buffer against the extraction economy brought on by its surrounding mineral resources. Adjacent Red Mountain may hold one of the largest Zinc deposits on the planet, and an Australian company has been scaling up exploration ahead of beginning full operation in the coming years.
Others chafe at Patagonia's new station in the bike world,
worrying that it's grown too fast and concerned about auxiliary issues like the affordable housing crunch that tends to follow booms in interest. As employers, the Ault's know the housing crunch all too well themselves. They're in this for the long haul – they've put down roots here, and aren't ones to shy away from tough subjects. They're determined, and they have a massive playground of dirt roads to clear their heads.
The riding in the San Rafael has its own vibration – one that seems to emanate as much from a large rock edifice perched on the edge of the valley as the gravel roads. A full thousand feet above town, it ("Saddle Mountain" to the forest service, "The Boomshakalaka" to Heidi) presides over the broken country of twisting drainages towards town on one side, and a vast Serengeti of yellow grass and red dirt on the other. Cattle ranches and forest service holdings stretch as far as the eye can see, hemmed in by the Huachuca mountains to the east and Mexico to the south.
Campsites dot the valley's edge, largely empty outside of hunting season
though what once was the odd vanlifer or wayward bikepacker has increased in recent years. The landscape – unique feeling though it is – has become familiar in cycling media of late, with commercial shoots (official and otherwise) trickling out across the internet further beckoning new riders. Alone up in the valley on a breezy spring afternoon, it's easy to see the allure.
A few steep drainages over the Arizona Trail dives from the valley back down to Patagonia, and though the section from Canello down to Sonoita Creek has been far from its most bike friendly, re-route efforts and with more and more singletrack installed have raised its profile in the mountain bike scene recently. Some locals have always enjoyed bikes in the Patagonia mountains, and are happy to see more.
"It used to be one, two bikes here and there,"
said German Quiroga, the town museum director who began his education in the one room Lochiel schoolhouse, which sits in a sandy bottom of towering cottonwoods brushing shoulders with the border of Mexico. "Now you'll see a pack of them. The more bikes the better, the way I see it."
Back in town, basket and patina clad cruiser bikes share a rack with wireless shifting carbon rocket bikes in front of the Patagonia Lumber Company. Barry, a Grateful Dead lifer who owns the natural food market down street, is playing guitar with his Hog Canyon Band, named after one of the drainages on Mount Wrightson up towards Sonoita. A few dozen locals sway with the spacy riffs. Straw hats, hazy beers, turquoise and tans are popular, with the occasional purr of high end hubs announcing the arrival of another band of cyclists claiming one of the assortment of picnic tables facing the stage behind the bar.
Sunday concerts have become a staple of the Lumber Company -
a way to hold on to the spacious moments of the day of rest before being thrown back into the week. Here, the birders, bikers, hikers and whoever else makes their way this far south can push pause and enjoy the simplicity of this little town. Navigating its nooks and crannies has taken a toll on Heidi and Zander, but this Sunday they stand, arms linked, soaking it up – absorbing the calm that they'll need for whatever road lies ahead.
Explore The Destinations
WHAT MAKES A PIVOT A PIVOT?
Latest Articles