Downhill Dreams
Jenna Hastings Becomes Junior Women's World Champion
Traveling around the world.
Riding bikes at breakneck speeds… you know, every 18-year-old girl's dream. Well, maybe not every 18-year-old, but for Jenna Hastings, the youngest member of Pivot Factory Racing and newly crowned Junior World Cup Downhill Champion, it's everything she's ever wanted.
As the New Zealand National DH champion, Jenna's UCI World Cup goals for 2022 included a top 10 finish – maybe top 5.
Even that seemed like a reach to her. She was viewed as the nervous and quiet new girl on the scene, but with mentors like Bernard Kerr and Emilie Siegenthaler it wasn't long before she made her impression.
Jenna's first race of the season,
also her first race on the World Cup circuit, was held in Lourdes, France. She finished in 6th place, already checking that top 10 finish box for the year. Jenna followed up with an impressive 4th place finish at Fort William.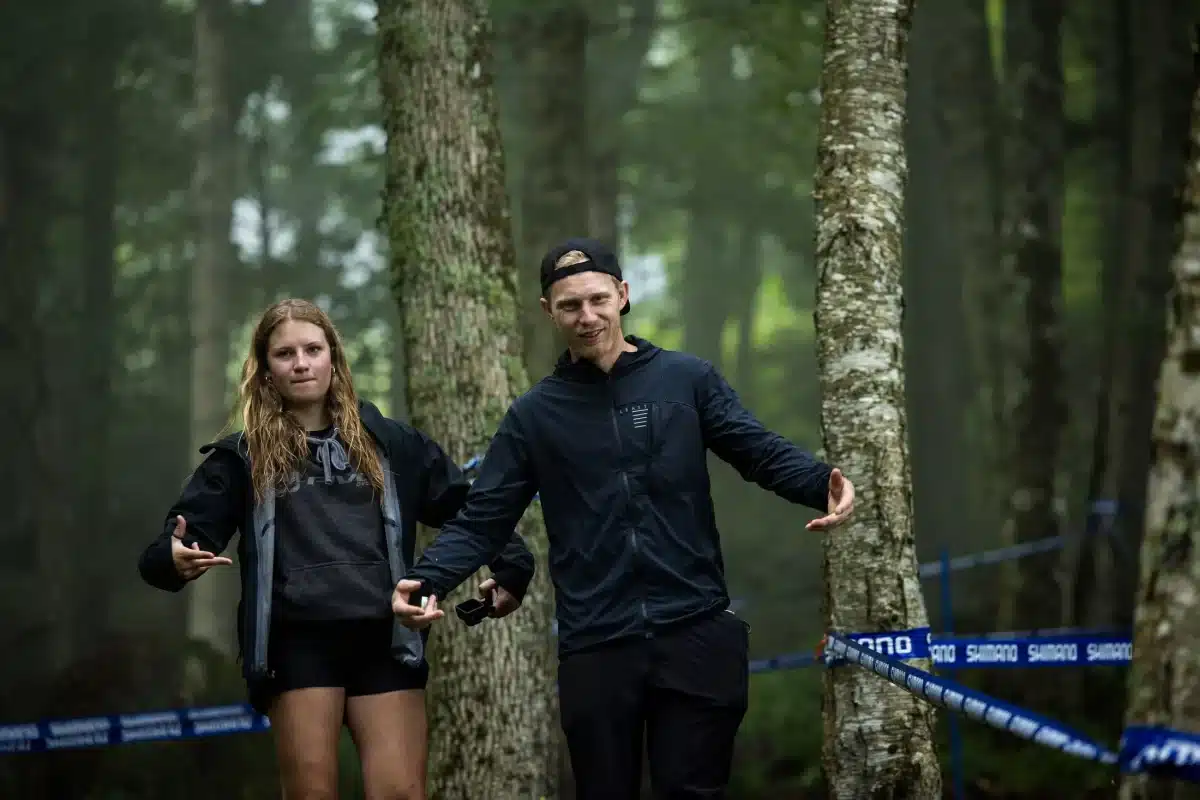 "Jenna is a super-fast learner, she picked up identifying lines and things to look for on track walks really quickly,"
- Bernard Kerr
Two races in and already having accomplished her primary goals for the season, the only way to go was up the podium.
Building on her strong finishes at Lourdes and Fort William, Jenna went on to Leogang, where she put down a dominant run and secured her first World Cup podium of the year, crossing the finish line in 2nd place, with vomit pouring out of her helmet; the result of giving 100% effort with nerves on high-alert.
"Yes, she threw up in her helmet in [at] Leogang - mid-race run even - and had to finish the run with vomit all over her goggles and chin bar."
- Emilie Siegenthaler
After the dominant Leogang finish,
she racked up two more 3rd place finishes at Lenzerhide and Vallnord. Jenna only had one thing left to do: win. And it looked like she would do just that in Snowshoe, WV, until an unfortunate wreck that would break her thumb.
"Seeing her almost taking the win in Snowshoe, with a broken thumb, in pain, but pushing through on the gnarliest, hardest track this year was truly amazing. I mean she was in 1st at last split just before she crashed."
- Emilie Siegenthaler
The injury to her thumb knocked Jenna out of the Mont-Sainte-Anne World Cup and Crankworx Whistler.
Meaning her next race would be the biggest race of the year, the UCI DH World Championship in Les Gets. She didn't have to deal with this pressure alone and having the Pivot Factory Race team to rally around her was a recognized asset.
"I've learned that it's so important to have a good team around you. Having people around you that know and understand you

was a huge benefit."

– Jenna Hastings
Getting ready to drop into her World Cup run at Les Gets,
still nursing a broken thumb, and Life is a Highway blasting to go with her attention-grabbing Lightning McQueen paintjob, Jenna only had three words on her mind. I am speed. And she meant it, halfway through the race Jenna had over a two second lead on Gracey Hemstreet.
Jenna went on, with the PFR team rallying beside her, to become the Junior Downhill World Champion, setting the stage for more learning, achievements and dream-fulfilling days on the track with Pivot Factory Racing.
WHAT MAKES A PIVOT A PIVOT?
Latest Articles