I understand that there's a significant amount of subjectivity involved in the statement I'm about to make, but I would also venture a guess that I'm far from alone with this sentiment:
New England in the fall is one of the best places on the planet for riding bikes. There are a number of factors that lead to this sort of an opinion. East Coast summers can be oppressive, with hot and humid days and all manners of winged insects brazenly feasting on any part of your skin that isn't covered, and sometimes even the parts that are. The arrival of fall equals the departure of all of that. The cooler temps often lead to hero dirt as well, with dropping dew points creating a more favorable relative humidity while also providing a daily smattering of morning condensation on the trails, which leads to added traction and obviously bigger smiles.
Of course, there's the main draw that pulls people into New England from around the world hoping to catch the region adorned in its full fall splendor: the changing foliage.
Peak summer means peak green tunnel season for the East Coast, with long daylight hours giving trees all of the energy they need to convert chlorophyll into sugars, which trees effectively use as their food source. It's a process known to all of us as photosynthesis. However, as daylight hours begin to wane and night length increases as we venture deeper into the fall, chlorophyll production slows down and then stops, and eventually all the chlorophyll is destroyed. The carotenoids (yellow and orange) and anthocyanin (violet and red) that are present in the leaf are then unmasked and show their colors. The effect this has on trail riding is otherworldly, with hues of varying yellows, oranges, and reds creating a profoundly beautiful blur of ambient light flooding your line of sight from all directions.
Irony of the Process
Of course, the irony of this process isn't lost on me:
while changing the color palette is among my favorite things about riding bikes in the fall, it also comes at the expense of precious daylight hours, which is probably the thing I dislike the most about the changing seasons. Still, the timeless and rolling hills of Northern Appalachia are a sight to behold when dressed in their finest autumnal garb as evidenced by the droves of tourists who make the annual pilgrimage to catch a glimpse for themselves.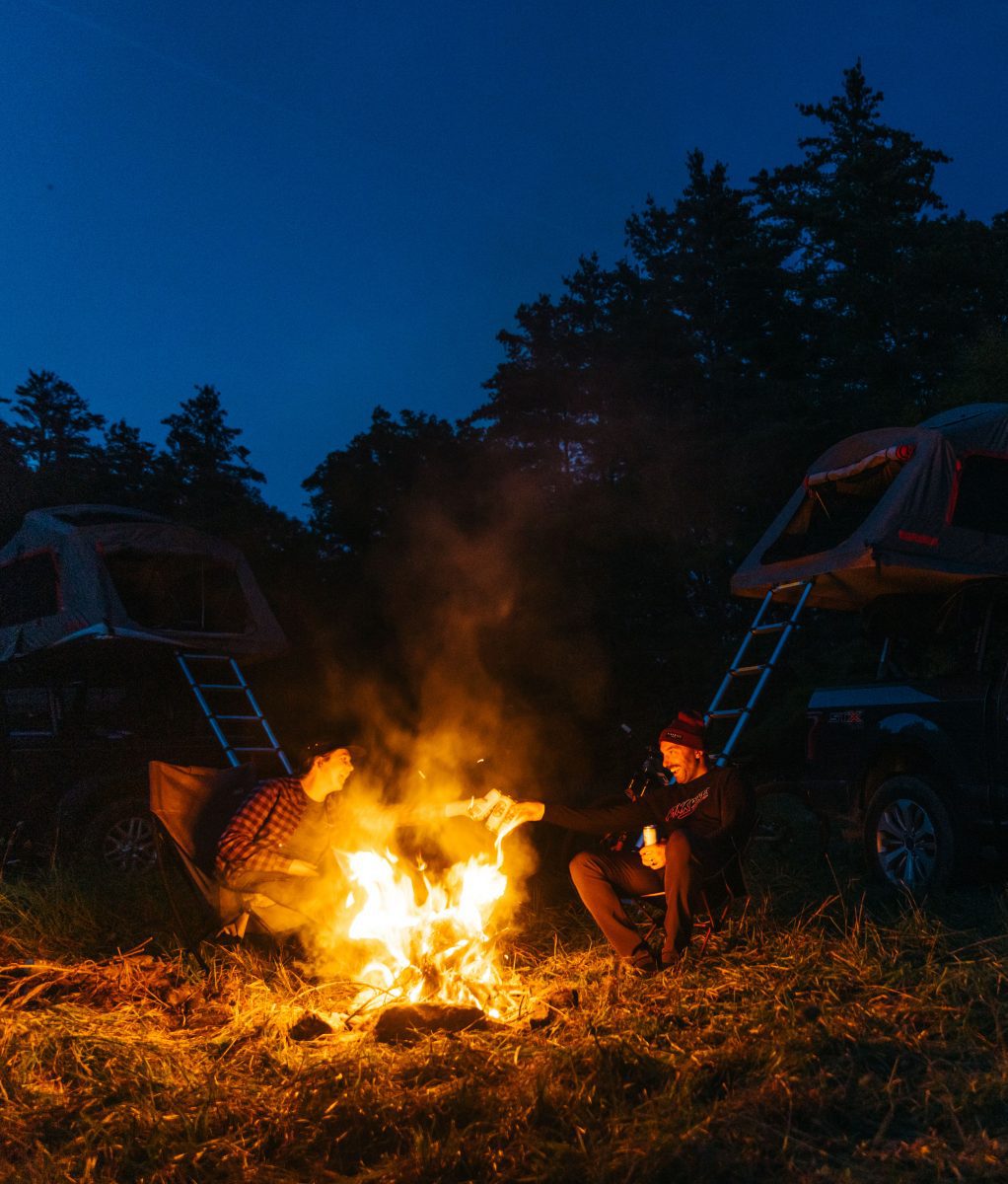 My good friend and frequent collaborator, photographer
Katie Lozancich, and I had been scheming up some ways for us to put ourselves smack in the middle of the leaf-peeping mayhem for an adventure on two wheels. Katie and her partner, Luke, are experiencing their first fall as full-time New England residents, having previously moved back and forth between Charlemont, MA during the warm months, and the rest of the year in Jackson, WY. Our idea was simple enough: we'd connect with a couple of other Pivot athletes in different corners of New England, do some camping, and ride a few world-class trails while we were at it. Once we agreed on where we were going to ride and who we were going to ride with, it was time to pack up the truck, toss my Yakima Skyrise HD tent on the roof, and head north. Katie and I were set to reconnect at our 1st of 3 stops, located in the shadow of New England's highest peaks: North Conway, NH.
Pivot athlete and endurance adventurer
Pivot athlete and endurance adventurer extraordinaire Kait Boyle was born and raised in Massachusetts, but after she left home for the unfathomably beautiful landscape of the Teton Valley, her folks decided to head north and purchased a home along the outskirts of the quaint mountain community known affectionately as "NoCo". As luck would have it, their home provided immediate access to some of Noco's best trails. Katie and I convened at their house and set up camp in their driveway. Besides being among the two nicest and most generous people I've ever met, Kait's parents – Penny and Rick – live half a mile from the Hurricane Mountain zone of North Conway, which is home to copious amounts of loam, duff, steeps, deeps, and good times. After an incredibly tasty home-cooked meal courtesy of Ma and Pa Boyle, I retired to my rooftop abode, opened up the panel to the Skyrise roof, and let the disarming quiet of the Northern New Hampshire surroundings and silver light of the nearly full moon flood my tent. I would bet that I had a smile on my face as I drifted off to sleep, with visions of loamers and rock slabs dancing in my head.
OUR FIRST DAY ON BIKES
Our first day on bikes in NoCo provides instant justification for this whole concept. Clear skies and warm temps greeted us early and never left our side throughout the day. We were exploring the Hurricane zone that day, which is a series of trails that drop down from the summit of Black Cap Mountain and run adjacent to the town's small ski hill, Cranmore Resort. The morning dew had done its job well, adding just a hint of moisture to the dirt before quickly evaporating and leaving behind gloriously dry roots. Kait, Katie and I enjoyed bouncing around on the playful and natural tech that is abundant throughout the region, warming up first with a ride on Hurricane and Red Tail trails, both offering excellent lines of sight, high speeds, and a handful of features to make a few shapes on. The legendary Kandagnar trail was next, with much steeper sections, bigger features, and some stunning off-camber line choices throughout. Our final trail of the morning would prove to be the consensus pick for the trail of the day: Sendero. The Mike Leblanc-built masterpiece was loaded with high speeds, hero dirt, and natural features from start to finish. After a break for lunch, we loaded up and headed across town to Cathedral Ledge, an outcropped granite slab situated 700 feet above town. It's equally popular among hikers, climbers, and mountain bikers and was chock full of all of the above that afternoon. We spent some time exploring slab lines and a handful of trails before heading back to the Boyle residence for our last evening in town.
The next day began well before dawn.
The three of us were on a dawn patrol mission back up on Cathedral Ledge.
We pedaled out to a set of slabs along the eastern aspect of the mountain and caught a stunning sunrise alongside a handful of other intrepid souls before slashing our bikes down yet another staggeringly fun trail: Half Day. Like Sendero, the trail begins with high speeds and a layer of duff atop a spongier soil base. But halfway down, the trail surface becomes a bit more compacted, with higher speeds and more of a roller coaster experience. We lapped it a few times before realizing it was about time for Katie and I to hit the road to Vermont. After some hugs and high-fives, we loaded up our trucks and headed west. Our drive took us through Pinkham Notch, a precipitous mountain pass between the Presidential and Wildcat ranges of northern New Hampshire, with the venerable Mount Washington rising over 4,000 feet above the bottom of the pass. The Presidentials provided a unique opportunity to catch fall foliage in a variety of phases, with forests along the floor of the valley still a vibrant green, and deep crimsons and oranges closer to the summits.
The stellar weather and breathtaking landscape accompanied us throughout the drive across state lines and into Vermont, where we eventually settled in at our campsite just outside of Waterbury. Alex Showerman, who left Vermont in 2021 to spend some time in the Pacific Northwest, had just recently moved back to her old stomping grounds in Waterbury and was on hand to greet us at camp and to spend a couple of days exploring trails in the region.
Our first full day in Vermont
Our first full day in Vermont was spent in nearby Richmond at Cochran's Ski Area. One of the really cool things about Cochran's, besides the Olympic heritage of the Cochran family with downhill skier Ryan Cochran having won a silver in 2022 during the Beijing Olympics, is that despite being located on a ski hill, the trails are not part of a lift-served bike park. Instead, the Cochrans allow for free access to the trails and parking lot out of sheer generosity. The climb up takes some time, but as climbs go it is pleasant and interesting enough. Once at the top, we spent the morning on Skully's, a progressive and flowy trail with small to medium-sized features creatively incorporated throughout. We connected to Wiley's, which has a slightly more old school and natural feel to it, before heading to town for a quick snack break. Afterward, we headed back to the mountain, this time working our way a bit higher up and further out to the top of Visceral. Tibetan prayer flags greet you at the intersection of several trails along the top, with Visceral providing the most raucous option down. This would prove to be the trail of the day, with a handful of steep sections, several natural and purpose built hits, and a brilliant combination of technical terrain and high-speed flow.
THE NEXT MORNING
The next morning saw our streak of stellar weather continue. We met with Alex at Bicycle Express, one of Vermont's best bike shops and one of Pivot's best dealers, and from there we headed south along Route 100 to what might be my favorite place to ride bikes in all of Vermont: the Mad River Valley. This sleepy and picturesque corner of the Green Mountains offers up some big descents, with considerable amounts of perfect dirt, rock slabs, technical riding, and some of the best views in the state. We opted for a shuttle from Stark Mountain Cycles and proceeded to explore the western aspect of Swell Hill. We bounced around along a few different trails before working our way to Techie Trail, which features several line choices throughout, with a handful of steep chutes, amazing corners, and lots of playful tech from start to finish. From Techie we blasted onto the Catamount trail, which is slightly more hardpack and straightforward with some decidedly higher speeds and a handful of absolutely sendy sections of trail. The entire day was full of creative line choices and huge smiles. From the bottom of the trail, it was a few miles of pedaling along the road back to where we left our vehicles. After a quick dinner at The Mad Taco, Katie and I bid a fond farewell to Alex and headed south to Katie's home in Charlemont, MA. 
Charlemont is a tiny little community located in the Berkshire Mountains of Western Mass.
It's most notably home to Thunder Mountain bike park, which is regarded as one of the premier lift-served bike parks in the country, but we were itching to ride the Warfield trails, a network located on Warfield Inn property and featuring several miles of progressive and technical riding.
We spent our final day riding some Warfield classics, including the high speed and hero dirt-laden Thunder Vision, the steep rock slabs and chutes of Baja Fog, the freshly built slab lines of Wicked Side, and the off-cambered brilliance of West Side. The colors were stellar, the dirt perfect, and the trails primed. It was the kind of day that completely affirmed Katie and Luke's decision to permanently call this place home.
Luke joined us that evening as we set up our Yakima Skyrise rooftop tents in a field overlooking the Warfield Inn and Charlemont below. With a fire going, we ate and drank and reflected on the brilliance of the previous 5 days. I was headed home tomorrow full of amazing memories and an overwhelming sense of gratitude. As I climbed up into my tent to retire to my rooftop abode for the final time, I noticed that the moon hadn't yet breached the horizon line, which meant that the Milky Way was clearly visible above. I opened up the roof panel once again to let the disarming quiet of the Berkshires inside while basking under the faint glow of the Milky Way above. The adventure was now behind us, but I would bet that I still had a big smile on my face as I drifted off to sleep.
WHAT MAKES A PIVOT A PIVOT?
Latest Articles