5 Things We Have Learned Racing the Arizona Trail
In the world of ultraendurance mountain bike racing, the Arizona Trail 300 was among the first singletrack-focused events to appear.
A few years later, a 750-mile-long version of the event that traversed the full length of the trail (but detouring around Wilderness areas) was introduced, and both unofficial races have gradually but steadily grown in popularity despite their difficulty.
Since 2009, Kurt has won and/or set records 7 times in the AZT300 and twice in the 750.
Kait set the current women's record in 2018, and only 4 men have posted faster times. The 2021 Arizona Trail 300 begins on Thursday, October 28th, and both of us will be back for another big ride. We've each learned so much racing on the Arizona Trail over the years, and here we share some of the most valuable lessons to come out of all those demanding miles.
1. Patience.
You can't force speed for hundreds of miles on the Arizona Trail (AZT).
Riding smoothly and letting the trail dictate the pace will lead to a fast ride. On long rides, it's easy to get caught up in the end destination and how far away it is. Focusing instead on the trail immediately around you will bring you a sense of presence and patience in the longer journey at hand.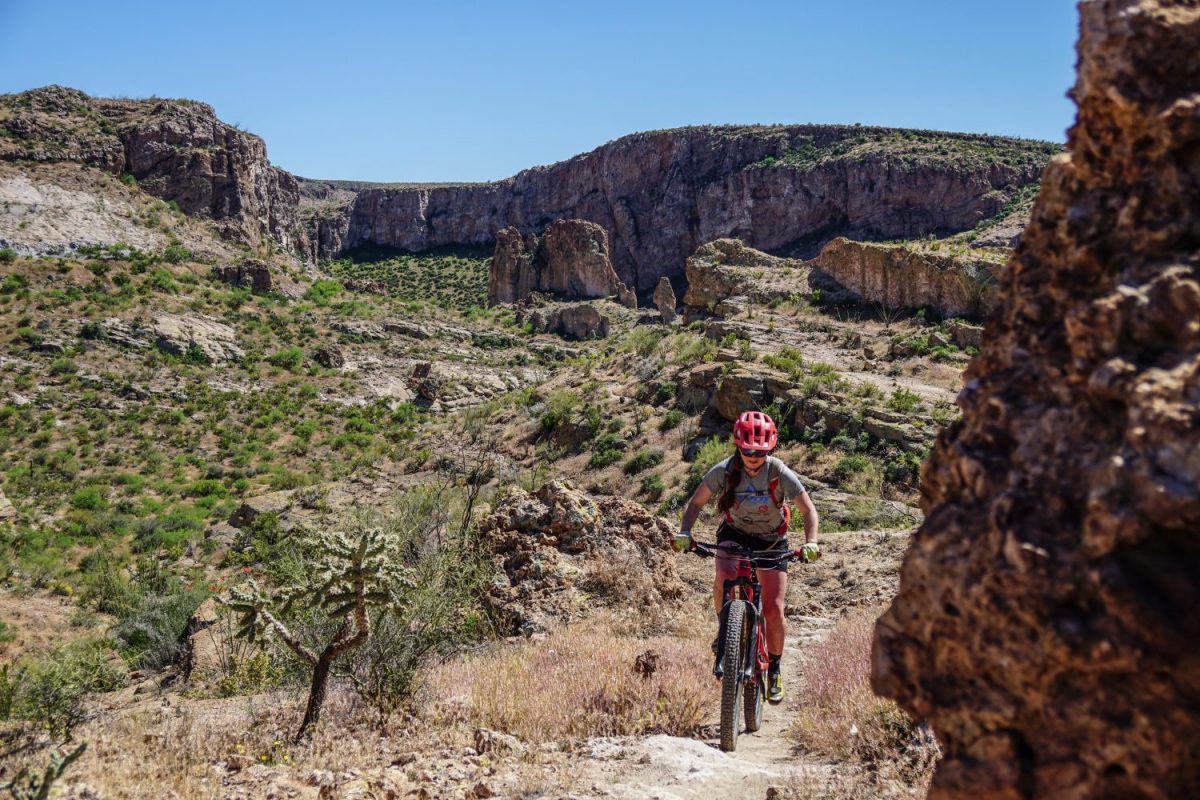 2. Plan carefully and with contingencies.
It's rare to cover miles as quickly as nearly all riders expect on the AZT. A moving average speed of 5 mph is generally fast on the AZT! With food resupplies and water sources being scarce, planning carefully for how much of each you need to carry is absolutely critical…and carrying extra is especially wise.
We've learned to calculate time based on the slowest expected moving time. We generally carry 300+ calories of food per hour of racing, and water consumption will vary from ½ to 1+ liters per hour depending on temperature.
3. Ride the route with a good GPS.
While AZT signs do mark major junctions, it is not uncommon to find an unmarked junction, overgrown section of trail, or to lose the trail across a wash. Riding with a GPS device mounted to your handlebars will allow you to navigate while moving, and install a decent BaseMap in case you need to navigate off route.
The Garmin Etrex series are the most tried and true GPS for navigating multi-day routes. They run on two AA batteries, have an easy-to-use pan/zoom map interface, and can take hundreds of waypoints/POIs for water sources and other important locations.
.
4. Go full-sus.
A full-suspension mountain bike will provide the most enjoyable ride for most riders. We've seen it all out there, from long-travel trail bikes to the rigid singlespeed to the fatbike, and they all work. But a mid-travel full suspension bike will give you the smoothest ride on a remarkably rough trail and lead to reduced body fatigue.
We'll both race Mach 4 SLs with 120mm of travel in the race. If weight weren't a personal priority, we'd also love bikepacking the trail on a Trail 429 (and would race this bike if the speedy Mach 4 SL didn't exist).
5. Arizona is amazing.
The landscape through which the trail passes is truly spectacular.
The entirety of the trail spans 800 miles across three major geophysical provinces of the West: the Basin and Range, the Transition Zone, and the Colorado Plateau. Whenever the riding gets rocky, eroded, or overgrown, you can remember that the rocks and processes that shaped the landscape have their own remarkable stories.
Although it would be rare to encounter one, you'll also be riding through the habitat of Gila monster, desert tortoises, various species of snakes, coatimundi, kit fox, and jaguars.
So for anyone looking to go fast on the AZT, have at it!
And for anyone wanting to experience the trail at slower speeds, most certainly get out there. The southern segments in the Sonoran Desert are fantastic during the upcoming cooler months.
To keep up with Kait and Kurt you can follow them on Instagram: Kait Boyle & Kurt Refsnider
WHAT MAKES A PIVOT A PIVOT?
Latest Articles